Whether it be for Harley's touring models, Honda's Goldwings, or the latest Indian Roadmaster and Challeger -based machines, we at ROADSMITH believe that the best styling for a trike, for any trike for that matter, is one that follows the same lines and fits as seamlessly as possible into the overall design of the motorcycle on which it is based – a.k.a: form following function
The idea isn't to try and take a motorcycle that took thousands of man-hours and countless millions of dollars to design and radically change it. The ROADSMITH design philosophy has, and always will be, for our conversion kits to stay as true to the OE design as possible. However, this is far easier said than done.
Think of it like this: We are taking the stock motorcycle and making it nearly a foot longer, almost 2-feet wider in some places, and we're not only adding two automotive style wheels, and a large storage trunk. Now, imagine having to enclose those wheels, and the independent suspension system that attaches them to the bike, plus the dual-disc brakes, differential, drivetrain and so on, underneath a fiberglass shell of our design that follows the bike's original lines and blends in as seamlessly as possible.
It's not easy, and most don't succeed. But with the years of experience and the overall understanding of the mechanics underneath and the importance of the esthetics that you see is the reason our designs are so successful.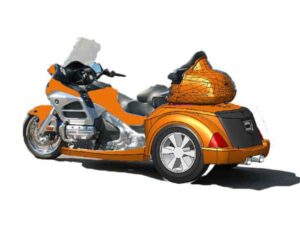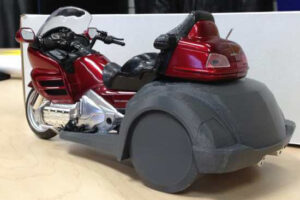 The aim is to have our kits blend in so well that to the casual observer they could easily pass as another model offered by the manufacturer that produces the original base motorcycle.
On the other hand, adding all the aforementioned stuff isn't purely a hinderance, as it allows for the machine to carry much more weight and still perform at its peak. Plus it means the rider no longer has to worry about keeping the added weight balanced at slow speeds or when stopped.
The additional size also gives us the ability to add things like increased storage space in our trunk, air-ride adjustable suspension and auxiliary gas tanks. Plus, all of our kits come with the receiver style trailer hitch built in!
Hence, you can see the investment we make in our designs to both work well with the host bike and look great while doing it.
These days, with the advancements in modern computers streamlining everything, vehicle design is far more refined than it used to be. We can now scan parts of the original bike, then we know how to design the body to fit perfectly with the bike. Where trial-and-error and countless hours of working with foam and fiberglass, then sanding pounds and pounds of body-filler off, used to be the only way to get the desired result, now nearly all of that can be plotted and viewed in 3-D on a computer screen and the exact size, shape and fitment can be shown without ever even making any dust.
That isn't to say the process is fast or in any way inexpensive – quite the opposite, actually. However, we at ROADSMITH feel our investment in this department has been, and will continue to be worth every penny, as all of these models will be produced in volume for many years to come. This method is far more precise and it gives us the ability to design and produce far more intricate shapes and styles with the kind of accuracy that was merely a pipe-dream in the past!
Because of this, the possibilities of design today are nearly endless. Another neat thing that is worth pointing out is the use of 3D printers and how that has helped in testing shapes and designs in a more tactile way. For instance, when designing the HTS1800 we used a plastic 1/12th scale model that we mated with a 3-D-printed 1/12th-scale ROADSMITH Body and Wing Guards to better be able to visualize what the finished trike would look like before we moved ahead in the design process.
For now, however, the next step in the process is for a life-sized wooden model to be produced for the purposes of making a pattern for the fiberglass molds.
Once the life-size wood pattern is coated with tooling gel and polished to a perfect luster molds will be built off of it. Then the production molds will produce perfect reproductions for years to come.
ROADSMITH currently sells a total of five different body styles, though most of those are designed specifically for one model of motorcycle. Although, depending on the bike for which the kit is designed, in some cases a second variation is offered.
This second body-style is typically offered to better match those bikes where a rear tour pack is optional and the buyer has opted to not add the tour pack; These bodies are typically called our V-Bodies, whereas the design that is intended for bikes with the tour-pack we call our R-Bodies.
However, the one exception to the rule being 1996-newer Harley-Davidson touring models, for which three different bodies are offered: R-Body, V-Body and T-Body.
Check out all of ROADSMITH's currently available body-styles here: